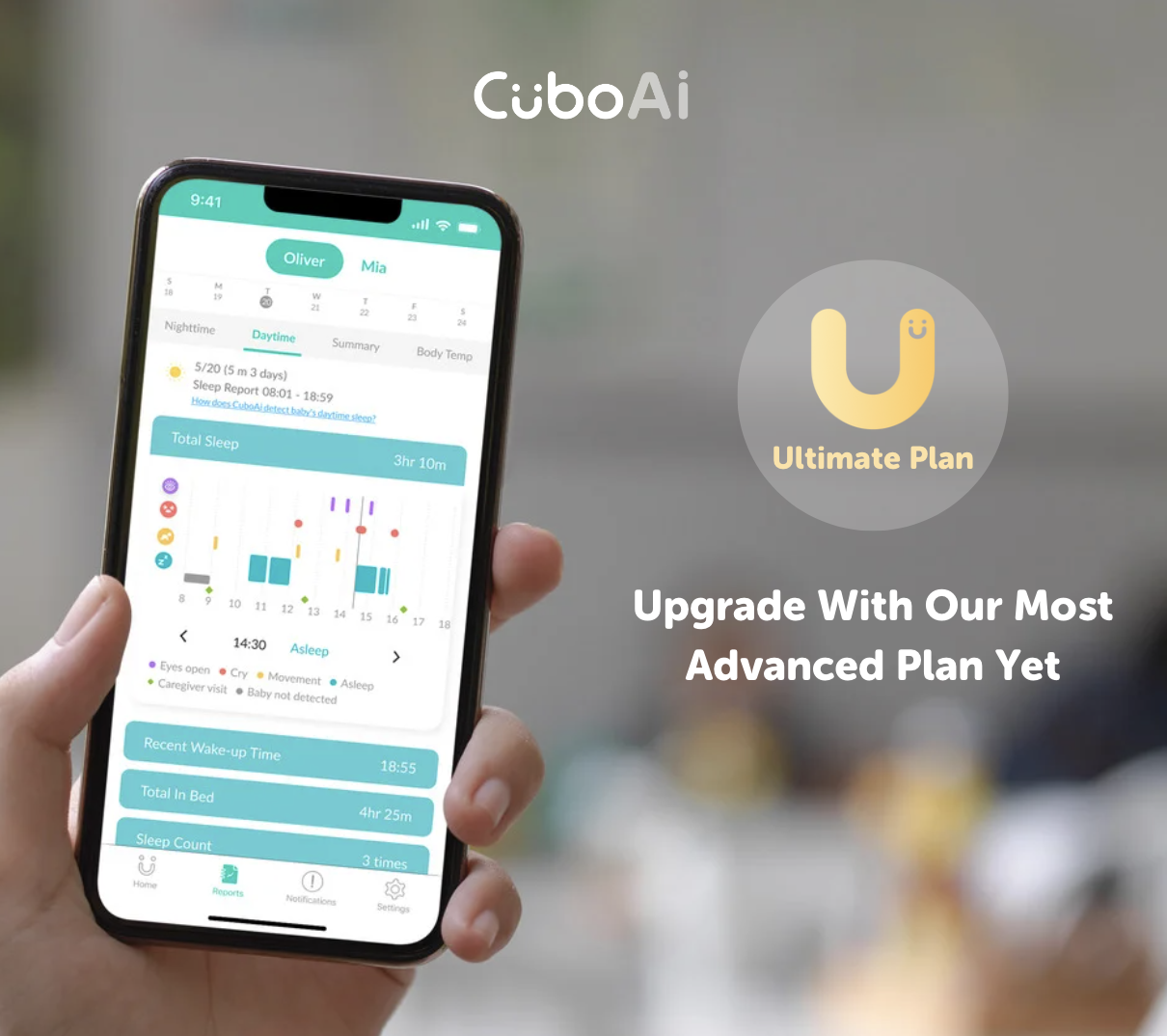 CuboAi Care Ultimate - Bundle with Extended Warranty!
$119.99
Upgrade the parenting experience with
CuboAi Care Ultimate
Our all-in-one solution to help you build & track Baby's sleep routine
Exclusive features for Ultimate
Unlimited Sleep Analytics Report
Daytime Sleep Report
Daily Sleep Summary
Playlist by a Music Therapist
10 AI Lullaby Schedules
90 Days Moments Wall Storage
Other CuboAi Care Premium Features
Service Activate Information
This bundle includes 12 months of CuboAi Care Ultimate, 6 months of extended warranty for the CuboAi Plus baby camera. 
Notes regarding the Ultimate plan activation process:
To activate your subscription after purchase, please contact the CuboAi Support team at support@cuboai.com, Facebook Messenger, or the in-app chat. You will need:
1) Your order ID
2) CuboAi app account email
3) Your Smart Baby Monitor's serial number
Please allow 2 business days for the CuboAi Care Ultimate Plan to activate after providing the above information. If you wish to purchase a CuboAi Care Ultimate Plan for multiple baby monitors, please order each device separately.
For CuboAi Plus users who are currently under the 1-year free CuboAi Care Premium Plan, your plan will be upgraded to the CuboAi Care Ultimate Plan upon activation following your purchase through this listing.
Please note that our return policy does not apply to this service, as it is a non-physical product. Once the order is placed, customers are not eligible for a refund.
Extended Warranty:
Eligibility:
Extended Warranty Service is only applicable to CuboAi Plus Smart Baby Monitor purchased as part of the 3 Stand Set, Wall Mount Set, Sleep Safety Bundle or Smart Health Bundle.
To be eligible for this service, the CuboAi Plus Smart Baby Monitor's warranty period must have at least 2 months remaining. An extended warranty cannot be applied to an out-of-warranty Baby Monitor.
Available Countries: 
Extended warranty is available exclusively in Taiwan, the United States, Canada, Australia, and Japan. If customers outside these countries apply for an extended warranty, CuboAi reserves the right to determine whether to provide the service.
Usage Restrictions:
Once the extended warranty service is activated, it cannot be cancelled or transferred to another Baby Monitor. One-time service: Each Baby Monitor is only eligible for this extended warranty service once.
If the original CuboAi order number cannot be provided for verification, the warranty for your Baby Monitor will be determined based on the manufacture date.